Sent as a newsletter from The Aspen Institute: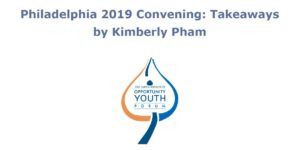 For our next and final post-convening reflection, we have collaborated with Kimberly Pham, a national activist and youth leader with Philadelphia-based Project U-Turn, and a member of Opportunity Youth United. Read below for her reflections and experience of the Opportunity Youth Forum 2019 Philadelphia Spring Convening, which took place last month from April 23-25.
You were one of the moderators for the Philly youth advocacy and organizing session. What was your biggest takeaway during this session?
Kimberly: The energy in the room was vibrating, loving, and soulful. Soulful in the way that you just felt the energy in your soul. It was moving, inspiring, and authentic. The biggest takeaway from the session was seeing people engage with one another, learning new rituals to use in community, and seeing organizers begin to see the intersectionality in the issues they advocate and resist against. The idea and practice of liberation and freedom and how it shows up for us all through the different ways we activate our community is vital, relevant, and critical.
How did it feel for you to have the convening in your hometown of Philly? What did you want attendees to experience?
Kimberly: It felt like a long time coming. The great part about the OYF spring convening is that we are in community. Members of the collective get to be on the ground where action takes place, and it was exciting to have the collective in Philly, the place I call home. The OYF movement gives members the opportunity to learn and share directly our challenges, our practices, and opportunity to create solutions together while in community. I get to see the collective move as allies in other communities. It's important not only that we convene, but we see how we support each other while we are together.
What were the big themes that stood out to you during this convening?
Kimberly: A big theme for me that stood out was systems-reform and how does equity and justice show up in these efforts to reform systems that are damaged, drained, and disconnected. Philadelphia had the opportunity to showcase efforts in shifting culture with connecting systems of education, workforce, and criminal justice. It is important that these systems and individuals who have power over these systems understand that the common goal is to ensure that our Philadelphia youth are successful and can be contributors to this society, aside from falling short to disheartening statistics that these systems are all familiar with.
Talk about a plenary or breakout session that inspired you.
Kimberly: A session that I was inspired by was the one that was led by Everyday Democracy. The session was deep! It gave you an opportunity to learn about how to move dialogue to action. We had the opportunity to actually practice this exercise on site. It can be very uncomfortable to have race-relation dialogues especially with people you never met before, but it gave me hope to see that we are willing to get uncomfortable. It means expressing we have privilege, even when we don't want to acknowledge it. Sitting there and listening to someone without judging is important for us to be able to work in a movement that is trying to change the odds for our young people, families, friends, and community.
What are next steps for you after this convening?
Kimberly: Next steps for me are following up with organizers from my session to see how we can support each other's efforts. Taking a moment to reflect on the journey to prepare for a new season with new reasons to go harder in the movement. Looking forward to building connections and relationships with OYF youth leaders and supporting their journey in this OY movement. Continuing the efforts of supporting the OYU & OYF partnership.
Thank you, Kimberly for your thoughtful answers!
We hope to see everyone at the Opportunity Youth Forum 2019 Aspen Fall Convening, which will take place October 28-30 in Aspen, Colorado.
https://www.oyunited.info/wp-content/uploads/2018/03/isbsD2XeTiqrMQUVAYCf_full_FF4AA7F26FD75043BD56DA7768BB42DD@namprd04.prod_.outlook.com_.png
450
450
Danielle Varner
http://oyunited.org/wp-content/uploads/2018/02/oyu-h-1-300x104.png
Danielle Varner
2019-11-19 21:13:37
2019-11-19 21:16:21
Philadelphia 2019 Convening: Takeaways by Kimberly Pham